Question:
I have a 1963 356B coupe which needs new front brakes.I'm pretty handy working on cars and want to do the work myself. I see you sell new brake shoes and all the other brake stuff. Tell me what to watch out for with this job. - George B.,  Cleveland, OH.
Answer:
There are no real mysteries in the Porsche 356 drum brakes. So here's a few words that should help you out. Obviously, the front drums need the most attention and the drums themselves wear out after all these years.  Any cracks in the drum linings are cause to have the drums relined – there are a couple of sources for that service in the US – call me for names. Plus, the Porsche factory has recently manufactured new complete drums. However, usually the drums are good and may only need slight re-surfacing.
 
Assuming your drums are good, then your major job will be replacing the shoes and wheel cylinders. There are three areas to pay attention to. See photos below of both brake assemblies.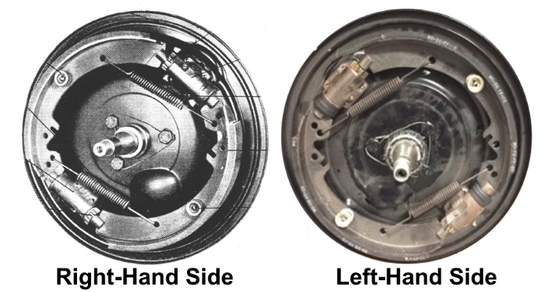 Brake cylinders – two of the cylinders you will receive will go in the upper location and two go in the lower location. Look in the photo of the right-hand assy: The upper cylinder has the adjuster on the left side and the bottom one has the adjustor on the right side. 
 
Brake shoes – all four shoes should be the same design. The new production shoes from Stoddard NLA are modelled after the last and best original version. Previous Porsche versions can be used as well but are not as effective. Check the position of each in the photos.  

Look at the shoe in the upper left in the right-hand assy.The thick end goes into the adjuster side of the cylinder and the thin end goes into the non-adjustor side of the lower cylinder.
 
Some shoes are slightly thicker and/or bent on the end and will bind in the slot. A little filing or slight grinding will take care of that problem. A very slight touch of anti-seize compound at those points will solve any binding.   
 
Springs – carefully note which hole the ends of the springs attach to. Those springs are four of the big springs in your brake hardware kit (the other two are used on the rear brakes). You'll find that vice-grip type pliers are your best friend to get the ends of these springs into the holes! The other springs are the little coil springs which tension the end caps against the "nails". Again, there's no problem if you have the right tool.  Buy one like this at Pep Boys which will take the grief out of setting the seats against the springs.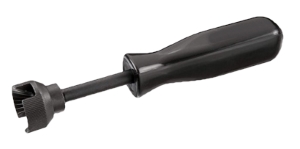 That should get you started on doing your brake job. Give us a call with any questions.

800-438-8119.  

Regards,
Brad Ripley