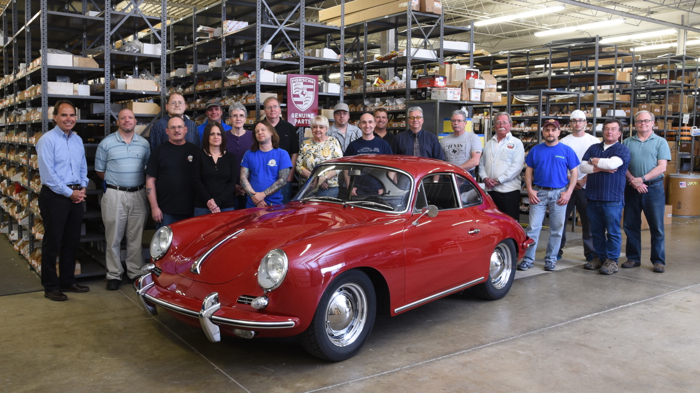 Stoddard Imported Cars, Inc. was founded in June 1957 by Charles A. Stoddard, an automotive engineer (MIT '52) with Thompson Products (now TRW). Initially, the operation was located in a stillborn Tucker dealership building and was known as a "Fix Anything Foreign" car repair and used car dealer. Chuck believed that the heart of the business must be its Service Department, with a dedicated in-house Body Shop.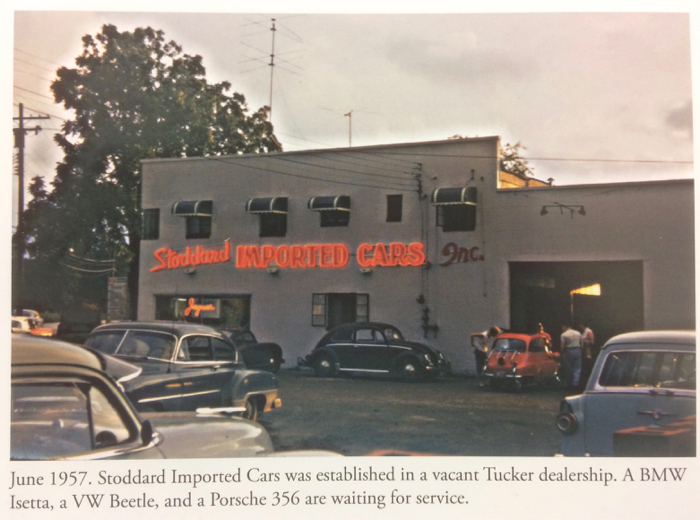 In those days, the generally prevalent insecurity of purchasing an imported car did not exist in Willoughby; any car purchased there could be repaired there. Originally, it fulfilled the City of Willoughby requirement of permitting only new car dealers, by becoming franchised for the BMW Isetta. This was a humble start. However, a few months later brought the addition of the British Motor Corporation family (MG Magnette, Midget & Sprite, Austin, Austin Healey, Morris, Mini, Riley), plus Alfa Romeo, Porsche and Lancia from the legendary importer Max Hoffman in New York.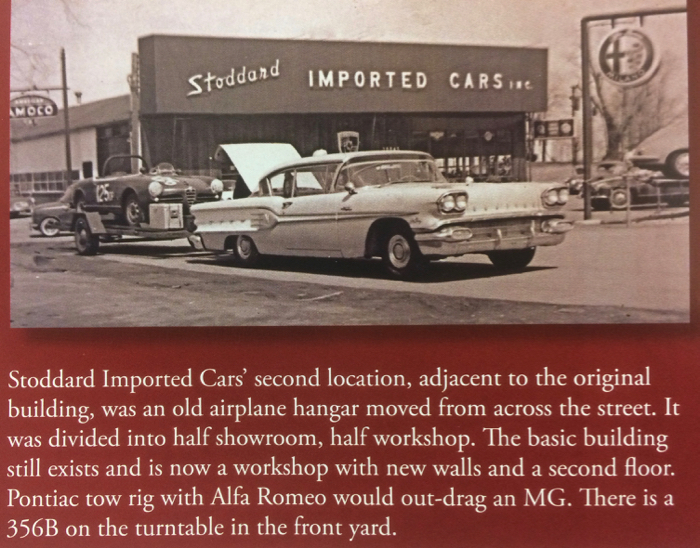 Later, during the imported car boom, and by the early 1960's, other franchises were added including Jaguar, Fiat, Mercedes Benz, Ferrari, Volvo, Facel Vega, Toyota, Sunbeam Alpine & Imp, Elva, Abarth, Morgan, Berkley, Yamaha, and Vespa, for a total of about 30 nameplates over the years (including Chrysler-Plymouth for one year!)
The dealership financially matured to prosper on only top-quality cars with long-term import potential. SIC invested in 4.5 acres of commercial real property in Willoughby, Ohio, and Chuck designed and built the new facility's buildings, which were gradually increased and expanded to over 45,000 sq. ft. during succeeding years.
At that time, Alfa Romeo outsold Porsche, and by the late '60's the Porsche of America Corp. (PoA) in Teaneck, NJ was established. The SIC franchises were pared down to Porsche, Alfa Romeo, Mercedes Benz and Volvo. Audi's USA introduction was in 1969. Finally, in the early '70's the SIC franchises were Porsche, Audi and Mercedes Benz.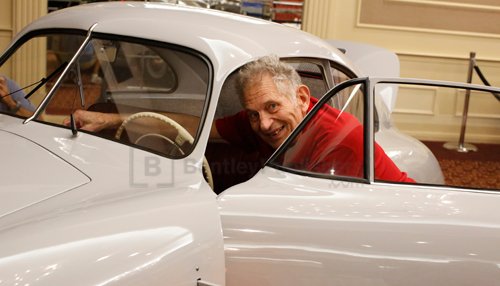 At the end of 1969, Porsche AG dissolved PoA, as well as announced the mid-engine 914. In Germany, Volkswagen purchased Auto Union (Audi) to gain the successor to the Beetle. In the then grand plan, all Porsche dealership franchises in the USA were terminated, and VW made an agreement with Porsche KG to become their official US importer. Audi got off to a quick start, with the 914 and the formation of the Porsche Audi division of Volkswagen of America (VoA). The Mercedes-Benz portion of SIC was reluctantly sold. At that time, Stoddard Imported Cars, Inc. was one of only 13 original Porsche dealers in the USA which became franchised as a Porsche/Audi dealer. For several months, SIC was the only Porsche dealer in Ohio.
In 1974 Chuck Stoddard made a significant decision which was of everlasting importance to his business and to many Porsche enthusiasts, which was to purchase all the available 356 parts from around the world and to expand his market via mail-order to the entire United States, followed by Europe, and finally expanding worldwide. It soon became a business within a business, which brought customers to Willoughby from surrounding states and significantly diminished the effects of local economic fluctuations.
The strong Service Department mentality of SIC that Chuck Stoddard nurtured in the 1950's continued to flourish. Eventually, the 356 parts supply that Chuck purchased began to diminish. With Chuck's technical background and by special agreement secured with Porsche AG, SIC started the remanufacture of various chassis and trim parts for the older models, as well as engines and transmissions.
A new 15,000 sq. ft. parts warehouse was built in 1978. The mail-order business was expanded, and over 300,000 Stoddard Parts Catalogs have been distributed during the past 35 years. At the same time, a full restoration program was started in the dealership, with 356's being shipped in from as far away as South America and Europe. The body shop is equipped with frame fixtures for the precise collision repair of all Porsche and Audi models, as well as one of the only Lutro® controlled-atmosphere downdraft paint booths in the country, enabling the duplication of factory-quality paint application.
For the past fifteen years, SIC has sponsored and hosted an annual June Porsche Swap Meet , a rare parts and literature treasure fest.
During 1983, after 28 years, Chuck relinquished control of the dealership. Because of his years of working closely with Porsche AG, SIC was purchased by the Porsche Factory to facilitate a significant worldwide expansion of the Stoddard support provided for older Porsche models: all 356, 911 and 912 through '73, 914, and non-current racing cars. Primary distribution was from Willoughby, Ohio and to Europe via a duty-free zone in Switzerland. Chuck Stoddard was retained for a transitional period over several years.
In 1992 Hans J. Wichter became President of SIC with the ideal 15 year background as Service Manager. Stoddard Imported Cars had won the coveted award of Premier Porsche Dealer for 14 years, 12 of which were under his guidance, a noteworthy record. For 48 years, the Service and Parts Departments have been the backbone of SIC, with equal competence and emphasis given to Porsche and Audi.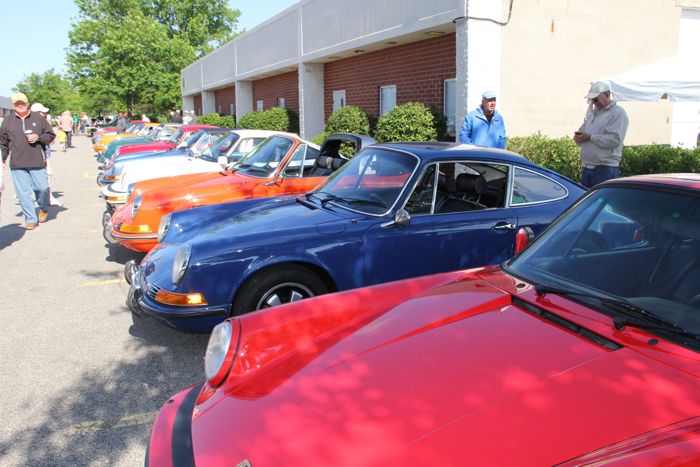 In November of 2004 SIC Ownership returned to the USA through the efforts of Bruce Schwartz. March 1, 2011 saw the sale of the Audi and Porsche Automobile Franchises to the Penske Automotive Group. The Vintage Porsche Parts Business continues, under the Stoddard Banner. Schwartz continues as President and owner of the Parts operation. Sadly, our founder, Chuck Stoddard passed away in 2019—but his legacy lives on in our company.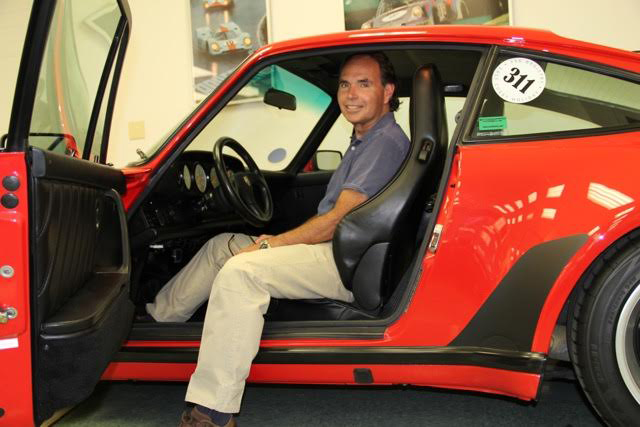 Stoddard NLA LLC is celebrated its 60th Anniversary in 2017. Over the past six decades, we have seen the rise of Porsche as a global automotive brand and the emergence of the Porsche-specific restoration market as a large worldwide industry. We were there from the start of it all and will continue to be a leader in the market.
As we move into our seventh decade, we are looking forward to many more decades of quality replacement and restoration parts for your vintage Porsche.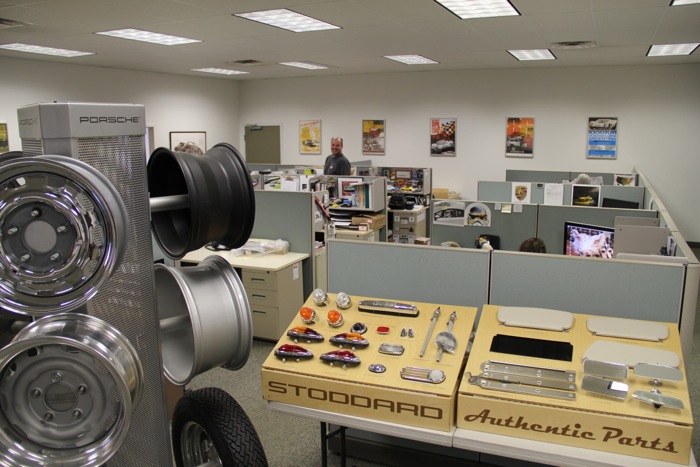 Early Archival Photos Previously Published in "Neil's Book" by Neil Goldberg